Excerpts from The CCC Books by Peter Osborne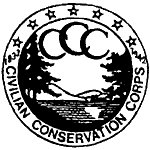 The following excerpts are taken from We Can Take It: The Roosevelt Tree Army at High Point State Park 1933-1941 by Peter Osborne.
Chapter 13
Good Will Towards All And Malice Toward None
Poems were included in company newsletters and often reflect camp life and the great affection the CCC boys had for the camps. Also, the kinds of dreams young men have. They demonstrate the literary promise of some of the enrollees including Owen "Black" Murray who wrote the following in February 1937:
What if we sweat in the summer
And what if in the winter we freeze
Though we grumble and kick
Somehow we stick
To life in the CCC's
When enlistment times comes around
And we all get the urge to breeze
A couple may go but the rest of us know
We're home in the CCC's
Murray wrote two other poems for the newsletter, the first entitled "Darkness up in High Point" and the "Contentment."
"Darkness up in High Point"

The flowers stop their nodding
Each bows its pretty head
For there's darkness up in High Point
They know it's time for bed.

The birds all stop their singing
And nestle close instead
For there'd be darkness up in High Point
They know it's time for bed

The day is through and play is through
All's been done and said
When shadows creep it's time to sleep
Time to go to bed

The wind itself is crooning
There are pleasant dreams ahead
For there is darkness up in High Point
And it's time to go bed.

"Contentment"

These things I ask of life
I know I'm asking much
Are a simple life, a home and a wife
The thrill of a baby's touch

To know the joy of working
How sweet this life can be
When someone is waiting - Anticipating
The safe arrival of me.
Other poems appear in the 1280 newsletter written by "Pat" under the heading of "This and That" in 1938.
Prayer of the Unemployed

Oh my God, I pray that Thee
Will send a job, not Charity
Give me a chance to earn my bread
And a place to rest my head
If I could just find work again
I'd bow my head and say, Amen.
This poem also comes from "Pat" and reflects a concern of the time.
Give Me Work

With weary heart and heavy feet
I tramp along the dusty street;
My throat checked by a sob
For tho' I look I find no job.

"No help wanted," employers say
Then I plod my weary way
I'm groping blindly in my grief
I want a job, not relief.

Of course I could live on a Dole
But work itself is a better goal;
With work I could keep my pride;
There'd be no grief for me to hide.

In work I could be content,
A job would be Heaven sent;
Then my heart would fill with glee;
For in work I'd find Security.
Epilogue
For those of us who use and love our nation's parks and forests, we can never express our gratitude enough to the Roosevelt Tree Army or to President Franklin D. Roosevelt who had a far-sighted vision about conservation and young men and acted upon it. Some CCC boys understood what they were doing went beyond the building of roads or lakes or even a paycheck. They saw a larger purpose. Peter Lutz reflected upon that mission: "We were from the city, and we realized what we were doing, see, we were building that park for our next generation, see we knew that. And we were only kids, we didn't have anything, we were from the city and we had no toys, Christmas didn't mean a thing to us. And so we thought, well, when we get married and have children we want them to be able to see what nature is all about."
When we drive over the roads of High Point, camp at one of its beautiful sites or canoe on its lakes, we can tip our hats to men like Messrs. Gibbons, Gemmill, Mastriani, Thiede, Lutz, Polisi and the others who made it possible. We remember, as Ray Hoyt said in his history of the CCC, "We Can Take It" that life in a CCC camp was a great adventure.
The second book written by Peter Osborne, High Point State Park & The Civilian Conservation Corps is in soft cover is 128 pages long and illustrated with 200 photographs. The images come from a variety of public and private sources and almost all of them have never been published before.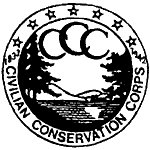 The Official logo of the CCC 1933-1941
Click Here to open a 300dpi (13k) version of this logo which you can then save to your computer.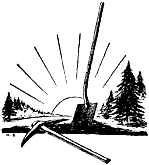 The motto of the CCC boys was "We Can Take It!" because of the hard work they undertook.
This illustration was created by a CCC boy.
Click Here to open a 300dpi (12k) version of this image which you can then save to your computer.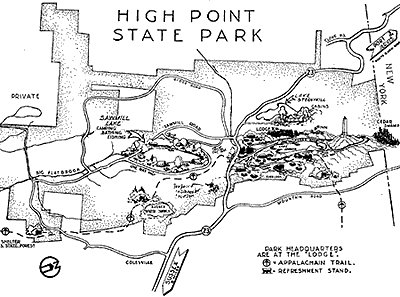 Click Here to open a 300dpi (465k) version of this map which you can then save to your computer.
Courtesy of High Point State Park
Much of what makes up the current park layout was built by the CCC including Ridge Road, Sawmill Road, Sawmill Lake, Stenykill Lake, the campsites and trail network as illustrated on this circa 1940 map created by a National Park Service architect working for the CCC.
For your convenience,
Click Here
to open this page as plain text in a new window for easy copying.