Who We Are
The Old Mine Road Chapter is a local chapter of the National Society Daughters of the American Revolution. Our hometown is Port Jervis, NY. The DAR is a national women's volunteer organization dedicated to promoting patriotism, preserving history and supporting education. Any woman eighteen years of age or older who is a direct descendent of a Revolutionary War soldier, or other person who gave aid to the patriot cause is eligible to join. We serve our local community by marching in parades and participating in holiday ceremonies, and we send aid to veteran's groups. Members educate the public about life in the past by donning historical clothing and volunteering at local libraries, and historical societies and museums. We also support a Children of the American Revolution Society for children ages birth to twenty-two. We work closely with the Minisink Valley Historical Society, having at least one annual meeting at Fort Decker. We are a hard-working, fun chapter!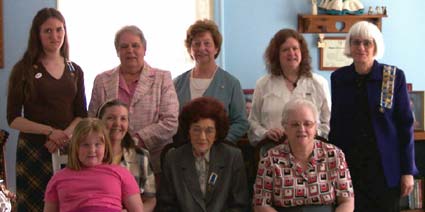 Members of the Old Mine Road Chapter, NSDAR with an Old Mine Road Society C.A.R. member.
Our Beginnings
Old Mine Road Chapter was formed October 11, 1973, the 84th anniversary of Our National Society.
The research for our chapter name was done by H. Doris Reinhardt (Mrs. James) who would become our organizing librarian. Choice of names must precede 1825 and can be the name of a man, woman or place of historical interest in the area of Port Jervis. Names in their order of choice are submitted to our National Society for approval.
At our fourth organizational meeting held on September 15, the name of Old Mine Road was voted on by the chapter after having received approval from our national headquarters.
The Old Mine Road is the oldest 100 mile road in the United States which extended from Kingston, New York to the old Pahaquarry copper mines in New Jersey. Plaques in the area commemorate this road which is still in existence.

The chapter meets at least once a year at the headquarters of the Minisink Valley Historical Society. Fort Decker, a 1793 stone house museum, was a Revolutionary War site.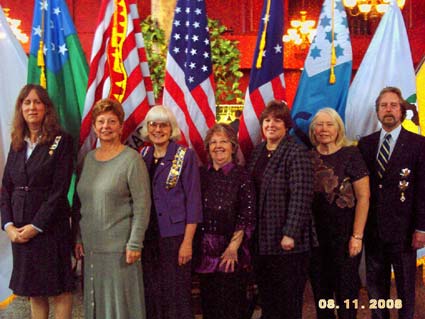 The Old Mine Road Chapter celebrated it's 35th Anniversary in 2008.
Events And Programs
Our chapter meets once a month on Saturdays at various locations. Our scheduled meetings often include interesting speakers and programs. Meetings are not open to the general public. We meet at least once a year at the historic Fort Decker in Port Jervis. Come see us at a parade or ceremony!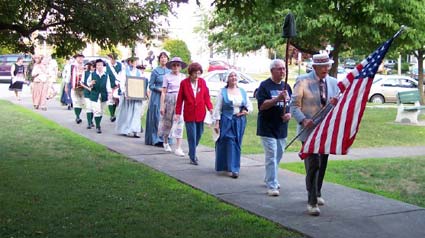 DAR members march in the July 4th Parade at Veteran's Park in Port Jervis.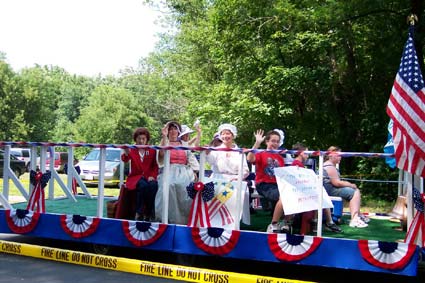 Chapter members and Children of the American Revolution rode on a float they created in the Port Jervis Centennial Parade.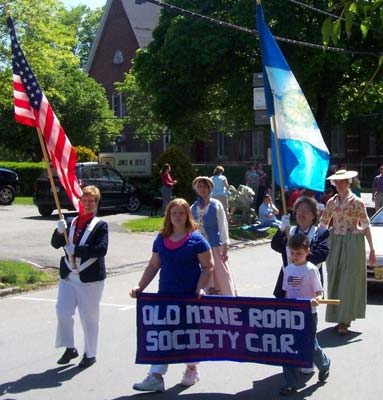 Chapter members march with Children in Memorial Day parade.
Old Mine Road Society, Children of the American Revolution
Our chapter has recently organized a C.A.R. society for children who are directly descended from a Revolutionary War soldier, or other person who gave aid to the patriot cause. Children (male or female) can join from birth until their 22nd birthday, at which time they can join a DAR or Sons of the American Revolutionary War chapter. This looks good on college applications and job resumes!
The C.A.R. is also dedicated to service, and our children also participate in fun activities such as marching in parades, collecting supplies for our troops abroad, and learning about the past. Plans for the near future include pool parties, presentations from historical reenactors, and making crafts.
DAR and C.A.R. members march in the Matamoras Anniversary Parade.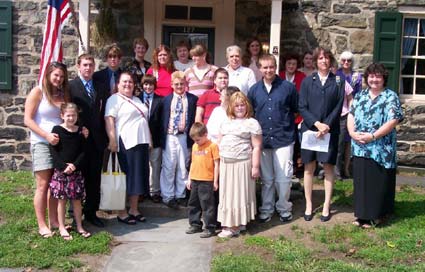 The first offical Old Mine Road Society, C.A.R. meeting was held at Fort Decker. Many New York State C.A.R. members attended.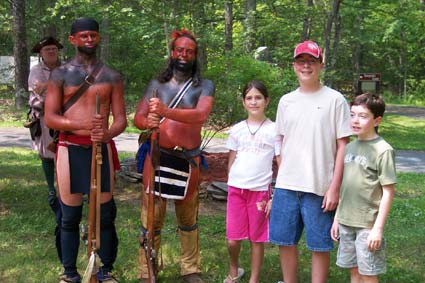 Old Mine Road C.A.R. members learn about American Indians who fought at the Battle of Minsink.
Contact Information
For further information about membership in the chapter please write the chapter at Old Mine Road Chapter DAR, C/O Holly Marcolina, 194 Eatontown Rd, Middletown, NY 10940. E-mail: OldMineRoadChapterDAR@minisink.org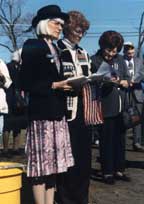 Members of the Old Mine Road Chapter of the Daughters of the American Revolution helped to reconsecrate the Mahackamack Churchyard in Port Jervis where at least 3 Revolutionary War veterans are buried. A ceremony was held on Arbor Day in 1997 to commemorate the planting of 3 trees by the City of Port Jervis and the Minisink Valley Historical Society.
PLEDGE OF ALLEGIANCE TO THE FLAG OF THE UNITED STATES OF AMERICA
I pledge allegiance to the Flag of the United States of American and to the Republic for which it stands - one Nation under God, indivisible with liberty and justice for all.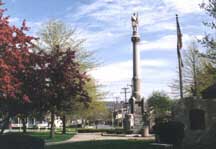 Orange Square, where all of the city of Port Jervis's veterans memorials are located.
THE AMERICAN'S CREED
I believe in the United States of America as a government of the people, by the people, for the people; whose Just powers are derived from the consent of the governed; a democracy in a Republic; a sovereign Nation of many sovereign States; a perfect Union, one and inseparable; established upon those principles of freedom, equality, justice, and humanity for which American patriots sacrificed their lives and fortunes.
I therefore believe it is my duty to my country to love it; to support its Constitution' to obey its laws; to respect its flag; and to defend it against all enemies.