Upcoming Event:
Stephen Crane's The Red Badge Of Courage
A Living Memorial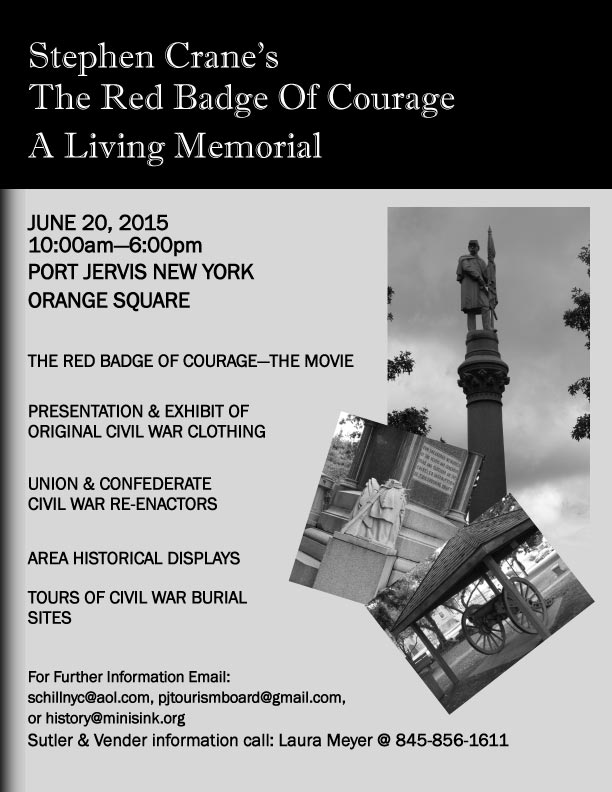 Stephen Crane's -
The Red Badge Of Courage
- A Living Memorial
June 20, 2015 - Schedule
Hours 10:00 am - 6:00 pm
8:00am - 10:00am - Exhibitor and Vendor Set Up
10:00am - Opening Ceremonies - Port Jervis Mayor Kelly Decker, Captain Ryan McIntyre of the Orange Blossoms, Cub Scout Honor Guard - Wreath at Civil War Monument
10:00am-11:30am - Broome Street Fife & Drum Corps
10:45am - Port Jervis Free Library Historic Marker Dedication.
11:00 - 12:10 - Movie - 1st showing of The Red Badge of Courage - $5.00 donation
11:30 - 12:30 - 1st Laurel Grove Cemetery Bus Tour of Civil War Veteran's Burial Sites. $5.00 donation
1:00 - 2:10 - Movie - 2nd showing of The Red Badge of Courage - $5.00 donation
1:30 - 2:30 - Robert Eurich -- "Stephen Crane: His Civil War Veteran Neighbors and The Red Badge of Courage."
3:00 - 4:10 - Movie - 3rd showing of The Red Badge of Courage - $5.00 donation
3:00 - 4:00 - 2nd Laurel Grove Cemetery Bus Tour of Civil War Veteran's Burial Sites. $5.00 donation
Activities Throughout The Day
On The Square
Hiawatha Stage Coach - Pike County Historical Society
1867 Hearse - Gray-Parker Funeral Home
Encampment - 124th NY (Orange Blossoms), Co. L 15th NY Volunteer Cavalry, 143rd NY Volunteer Infantry, Lee's Battery Virginia Light Artillery, President and Mrs. Lincoln, & Generals Ulysses S. Grant & Robert E. Lee
History of the Monument & Canon
Delaware River District Cub Scouts
Boy Scout Troop 378
Venturing Crew 268
Girl Scout Troop 378
Girl Scout Troop 443
First Presbyterian Church
Movie - The Red Badge Of Courage
Juanita Leisch Jensen - CW clothing & accessories - history of women in the CW
Mourners - coffin & brief history of causalities & effect on families
Drew United Methodist Church
Tri-State Historical Societies - Civil War exhibits & memorabilia
Frank Salvati - Indian Weapons
Willard Schadt - Civil War Music
Fort Decker Maintenance Fund
Urgent Message
All of us involved with the history of the Minisink Region share a common link - an uncommon love for the preservation of history. Part of that history is Fort Decker, constructed prior to 1760, and attacked during Joseph Brant's raid on the Minisink in 1779.
Unfortunately, time has ravaged our beloved Fort, and she now needs our help. Won't you consider making a small contribution of $10 (more if you can) to help keep the Fort from further decay? This will be a yearlong effort to raise funds for the restoration.
Please make a donation and pass the word of our efforts to your family, friends and co-workers to support this cause.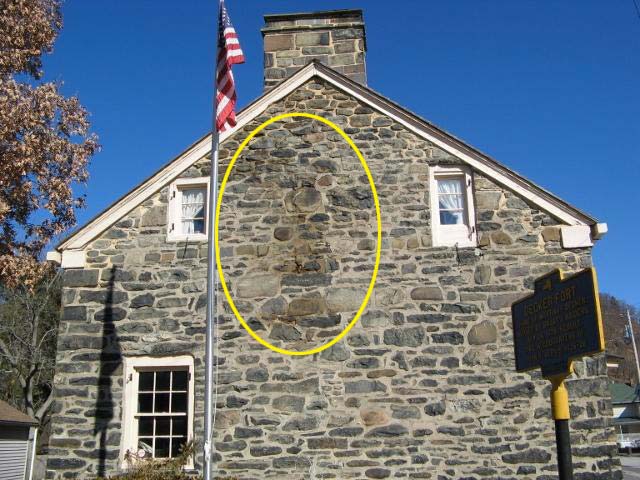 Within the yellow oval is the area of severe water damage.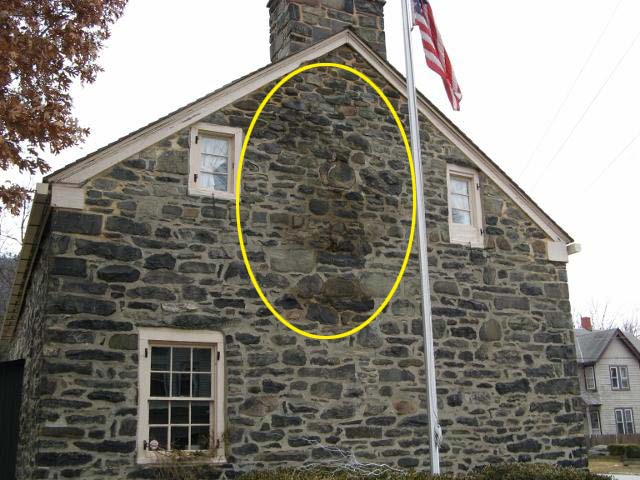 While there is a need to re-point the entire building this side is critical.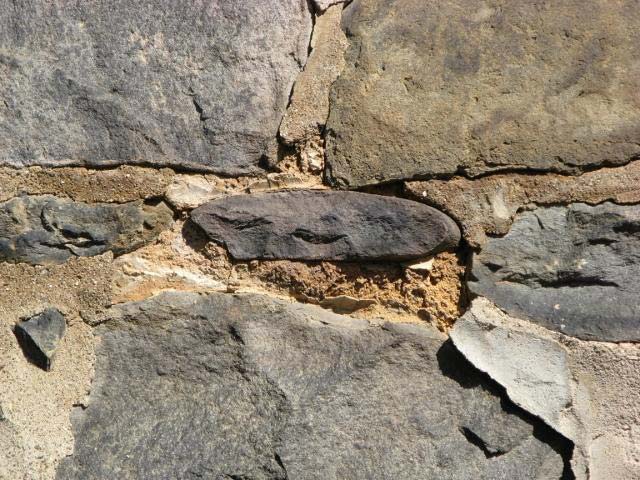 Through the years different styles and types of masonry techniques have been applied to the building.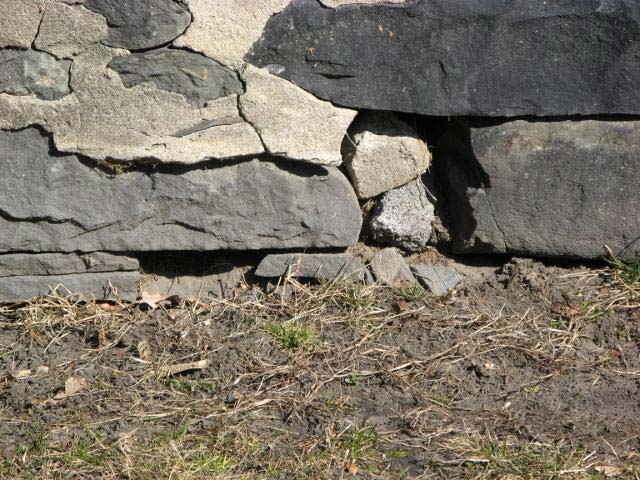 Much of this patch work has been deteriorating and needs our attention.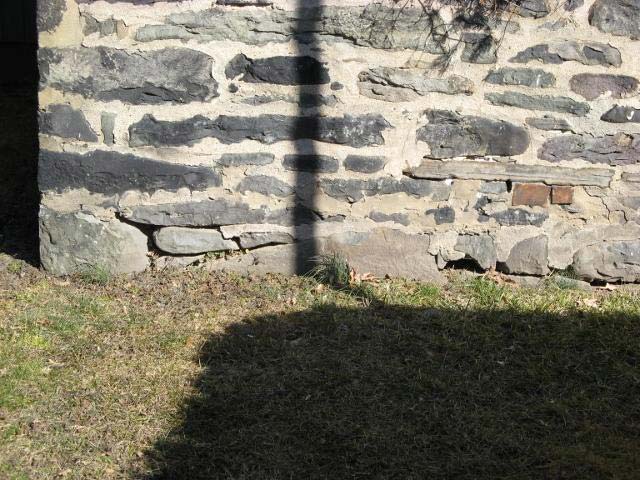 The spaces at ground level make wonderful entry ways for moisture and furry little critters.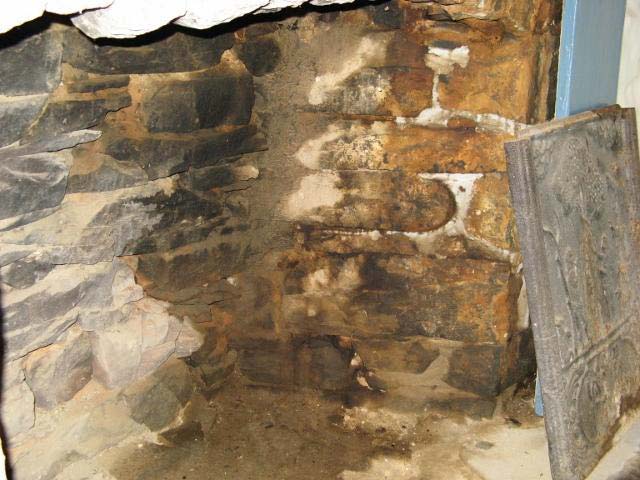 The inside of the second floor fireplace - The water no longer leaks into the chimney since the copper caps were installed in 2011.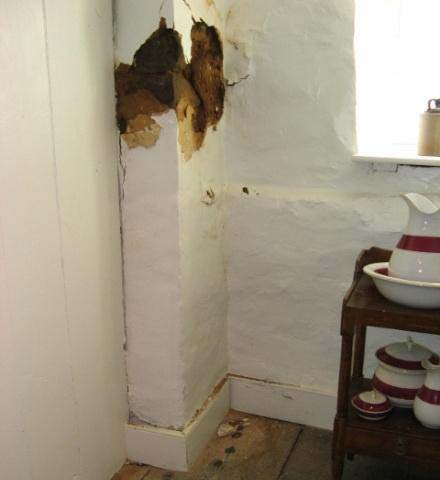 Damage to second Floor plaster wall against chimney and fireplace.
Minisink Valley Historical Society is a 501c3 - your tax-deductible gift in any amount is an investment that will be of direct benefit to Fort Decker. Minisink Valley Historical Society is an all volunteer organization.
Please take a moment to click on the "Donate" button
or mail your contribution to
MVHS, PO Box 659, Port Jervis, NY 12771.
Click Here
to download a printable pdf donation form/flyer.
Welcome to our website and the historic Minisink Valley, where some of our nation's earliest history occurred. The Minisink Valley is an area which reaches from Minisink Ford, New York, to Lackawaxen, Pennsylvania, to the Delaware Water Gap at New Jersey and Pennsylvania, including:
in New York:
City of Port Jervis
Town of Deerpark
Cuddebackville
Rio
Huguenot
Westbrookville
Town of Forestburgh
Town of Greenville
Town of Lumberland
Town of Mamakating
in New Jersey:
Wantage Township
Montague Township
Sandyston Township
in Pennsylvania:
Dingmans Ferry Township
Borough of Matamoras
Borough of Milford
Click Here
to see a general map of the Minisink Valley region.
The Minisink Valley Historical Society is located at 125-133 West Main Street in Port Jervis, New York. The Fort Decker Museum of History, a stone house built in 1760, and listed on the National Register of Historic Places is the Society's museum. The Robert Kleinstuber House, which is located behind it, is the center of the Society's day-to-day activities and is the location of the Society's storage facilities.
Number of visitors since May 1, 1997