Top 15 Things to See in the Area
The following choices are the best places picks to see within a 15-mile radius of Port Jervis, New York. While staying in or near Port Jervis these tourist destinations are just minutes away, and different combinations provide for great day trips for those interested in the outdoors, history and picnicking. Many of the sites have things of interest for children and young adults.
1.) High Point State Park & Appalachian Trail, Route 23, Montague, NJ
(Highest Point in the State - Great View)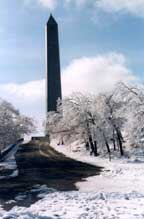 2.) Upper Delaware Scenic & Recreation River, National Park Service, Narrowsburgh, NY
(Begins just north of Port Jervis, NY ends at Hancock, NY)

3.) Delaware Water Gap National Recreation Area, National Park Service, Bushkill, Pa.
(Begins at Milford, PA and ends at the Delaware Water Gap)
4.) Delaware River Heritage Trail - Tri-State Rock & Laurel Grove Cemetery, Port Jervis
(Begins at Fort Decker where there is a trail guide and map.)
5.) Roebling Bridge/Delaware Aqueduct, Route 97, Minisink Ford, NY
6.) Grey Towers, Home of Governor Gifford Pinchot, Milford, PA
7.) Fort Decker, 1793 Museum, 127 West Main Street, Port Jervis, NY

8.) Pike County Historical Society, Route 209, Milford, PA
(Home of the Lincoln Flag)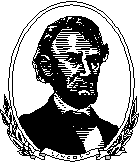 9.) Neversink Valley Area Museum & D&H Canal Park, Route 209, Cuddebackville, NY
10.) Neldon Roberts Schoolhouse, Montague Association for the Restoration of Community History, Route 206, Montague, NJ
11.) Foster-Armstrong House, River Road, Montague, New Jersey
12.) Gillinder Glass Factory & Museum, Erie Street, Port Jervis, NY
13.) Port Jervis Erie Turntable, Port Jervis, NY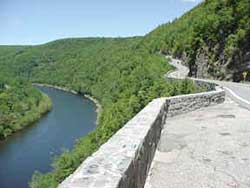 14.)Hawk's Nest Scenic Overlook, Route 97, Mongaup, NY
15.) Nature Conservancy - Neversink Preserve, just off Route 209, Godeffroy, NY
(One of the Conservancy's Last Best 75 Places)
Other Interesting Places to See and Things to Do in the Region
Basha Kill Wetlands, NY DEC, Westbrookville, NY
Zane Grey House, Lackawaxen, PA
Upper Mill, Milford, PA
Fly-Fishing - Neversink River, Cuddebackville, NY
Revolutionary War History- Battle of Minisink Historic Site, Minisink Ford, NY
How Best to Spend a Summer Sunday in the Region
1.) Grab a lawn chair and sit in the middle of the Delaware River with an exposed rock along side of you and read the Sunday edition of the New York Times or the New York Post with a cold Coke (or beer) on a hot muggy afternoon. You will be the envy of hundreds of hot, tired and cranky canoeists who wished they were doing the same thing.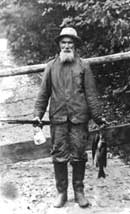 2.) Go to Silver Canoe Rentals (845-856-7055) and take the "no paddle raft trip" from the Mongaup River to Port Jervis. It is simply the most relaxing thing in the world to do. Bring along a bag lunch, water, reading material, hat and sun tan lotion.
3.) Hike the Delaware River Heritage Trail on cool fall afternoon when the color is changing in the trees. The early morning is the best time if you wish to do it in solitude.
4.) Take a picnic lunch to Elks-Brox Park and take the family, best friend, spouse or significant other along for a great view, solitude and a relaxing day.
5.) Make a day trip of visiting all of the area's former Delaware and Hudson Canal sites along Route 97 and Route 209.
6.) Hike a section of the Appalachian Trail somewhere in New Jersey's High Point State Park or Stokes State Forest. The views are great, the exercise good for you and you will also experience the "magic between markers" as a through-hiker once said.
7.) Meet us on the byway - the Upper Delaware Scenic Byway that is, an 82-mile adventure from Port Jervis to Hancock along Route 97 with lots of great history, cultural sites and scenic beauty to see.
8.) Get Sandy Schultz (Assistant Superintendent, UDSRR), Mary Curtis (Retired NPS historian) and Peter Osborne (Minisink Valley Historical Society) in an air conditioned car, take them out to dinner and have them give you a tour of the Delaware Valley. It would be like going to a great bluegrass/folk music concert - perfect harmony and lovely music. You will hear tales of raftsmen, graveyards, CCC boys and geology and have a great time.
Prepared by Peter Osborne, Former Executive Director
The Minisink Valley Historical Society